In the rapidly evolving landscape of technology, staying up to date with the latest trends and gaining insights into helpful tips can be a daunting task. That's where WAITS Weekly comes in. We are your go-to destination for all things tech, delivering a wealth of knowledge, expert analysis, and practical advice to empower you in this digital age.
At WAITS Weekly, we have a passion for exploring the ever-changing world of technology. Our team of tech enthusiasts is dedicated to bringing you the most relevant and cutting-edge information, ensuring that you are equipped with the latest insights to make informed decisions and maximize your tech experiences.
With each blog post, we delve into a variety of topics that span across different aspects of technology. From emerging trends in artificial intelligence and cybersecurity to the latest gadgets, apps, and software developments, we cover it all. Our aim is to provide you with comprehensive and engaging content that not only keeps you informed but also sparks your curiosity and ignites your enthusiasm for all things tech-related.
What sets us apart is our commitment to delivering more than just news and updates. We understand that technology can be overwhelming at times, especially for those who are not tech-savvy. That's why we strive to make our content accessible and user-friendly, catering to both tech enthusiasts and beginners alike. Whether you're a seasoned professional looking to stay ahead of the curve or a curious individual eager to explore the wonders of technology, our blog has something for everyone.
One of our key focuses is on highlighting the latest tech trends. Our team keeps a watchful eye on the ever-evolving tech landscape, curating and analyzing the most significant developments in the industry. By keeping you informed about emerging technologies and trends, we empower you to embrace innovation and make informed decisions that can transform your personal and professional life.
In addition to tracking trends, we also understand the importance of practical tips and advice. Our blog features a plethora of helpful guides, tutorials, and how-to articles, designed to assist you in navigating the intricacies of the digital world. Whether you're seeking guidance on optimizing your smartphone's performance, troubleshooting common software issues, or discovering hidden features in your favorite apps, our blog serves as a comprehensive resource to enhance your tech knowledge and skills.
We firmly believe that technology should serve as a tool to simplify and enrich our lives. However, we also acknowledge that it can be a double-edged sword, presenting challenges and concerns along the way. With this in mind, we address the potential pitfalls and risks associated with technology, offering tips on cybersecurity, data privacy, and digital well-being. Our goal is to empower you to navigate the digital realm confidently while ensuring your safety and security in an increasingly interconnected world.
Join us at WAITS Weekly, and let's embark on a thrilling adventure into the realm of tech together. The possibilities are limitless, and we are here to guide you every step of the way.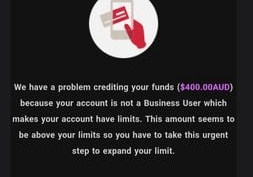 PayID Scam
PayID Scam and How It Works: All You Need To Know Are you someone who enjoys selling your old, second-hand items? Perhaps you've used popular platforms like Facebook, Depop, or Gumtree to make these transactions. If so, you may already be aware of the PayID impersonation scam that has been circulating. Alternatively, you might …