PayID Scam and How It Works: All You Need To Know
Are you someone who enjoys selling your old, second-hand items? Perhaps you've used popular platforms like Facebook, Depop, or Gumtree to make these transactions. If so, you may already be aware of the PayID impersonation scam that has been circulating. Alternatively, you might have come across listings on Facebook Marketplace with the phrase 'NO PAYID' in the description, leaving you puzzled about its meaning. PayID is a method that utilizes your email, phone, or ABN to send and receive money, and unfortunately, scammers have found a way to exploit this system.
---
How Does It Work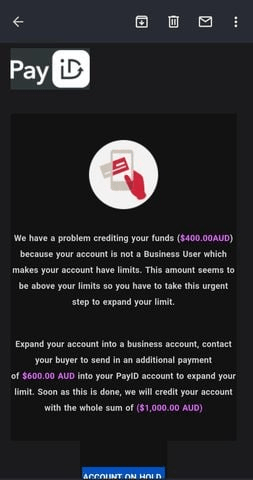 When you have posted something for sale and you have received a 'buyer' (which is really a scammer playing pretend) who is asking to pay using PayID. Once you have share
d your PayID with the scammer, they will then send a fraudulent PayID email to you. The scammer then insists that you need to transfer funds to them to increase their PayID limit so that you can rec
eive their payment. This is where the scam gets you – why should you, the seller, have to transfer money to the buyer, just so you can receive the original payment? It is quite fishy. What's also interesting is that the scammer won't negotiate the price and will even arrange for someone to pick up the item without personally inspecting it.
---
How Do I Avoid It
Now, how can you identify and protect yourself from falling victim to this scam? One of the first indications that something is amiss is the pushy and rude behavior of the scam
mers, as they try to coerce you into accepting PayID. Don't give out your personal information, such as your email or phone number, both of which are used to transfer money. And, quite frankly, use your brain. Don't let yourself be pushed into doing something you don't want to because most of the time, these scammers are quite rude and confronting.                                                                                                                                                                                                        Image © Heritage Bank
---
The OG PayID
It's important to note that while the genuine PayID service is safe, fast, free, and simple to use, this impersonation scam has tarnished its original purpose. If, after considering the risks, you still decide to proceed with PayID, be wary of scammers asking you for money to upgrade or access their PayID account. Remember, PayID is a free service, and any request for payment should raise a red flag. Additionally, keep in mind that PayID is managed by your Bank and as such, will never reach out to you via email, text, or direct message. If you receive any communication claiming to be from PayID, it is likely a scam.
---
A Word of Caution
It is important to note that WAITS does not endorse or promote the usage of PayID, whether it's a scam or not, simply because we lack sufficient knowledge on the subject. If you do choose to use PayID, please proceed with caution and at your own risk. In the unfortunate event that you become a victim of this scam; it is crucial to contact your bank immediately. The sooner you act, the higher the chances of recovering your funds.
---
It's disheartening to see that scams related to second-hand goods have surged by 66% in just the last three months, with the PayID scam accounting for a significant portion of this increase. This alarming trend underscores the importance of staying vigilant and adopting preventive measures when engaging in online transactions. This particular scam is relatively recent, gaining momentum as more people turn to online platforms to sell their used goods. Shockingly, Australians have collectively lost over $260,000 as a result of this scam.